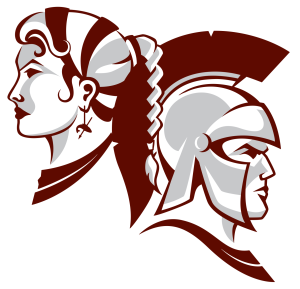 Homecoming is right around the corner. And the students, parents, faculty and staff at Spearfish High School invite you to celebrate this exciting week by participating in this year's SHS 2023 Homecoming parade!
September 22 | 2:00 pm
Parade THEME: Rope the Broncs!
TAILGATE: (Spartan Athletic Booster Club): Starts at 5:00 – Hamburgers, Hot Dogs & Chips!
GAME TIME: Friday (Sept. 22nd) | 6:00 pm | Belle Fourche Broncs | Lyle Hare Stadium
Purchase your Spartan Yard Signs! Get them at Heisler Hardware! Funding goes to Hillsview Daycare.
________________________________________________________________
• Line-Up begins at 1:30 Sharp
• ALL FLOATS MUST BE READY BY 1:45 pm
• Parade begins at 2:00 pm
Parade Route (NEW DUE TO CONSTRUCTION):
• The parade will begin at State Street and Elgin Street near Spearfish Dog Park. The route will turn west on to Grant Street and travel to North Main Street, turn west (left) on Jackson Blvd, then turn north (right) on St. Joseph St, and then turn east (right) on Hillsview Dr ending at Spearfish High School.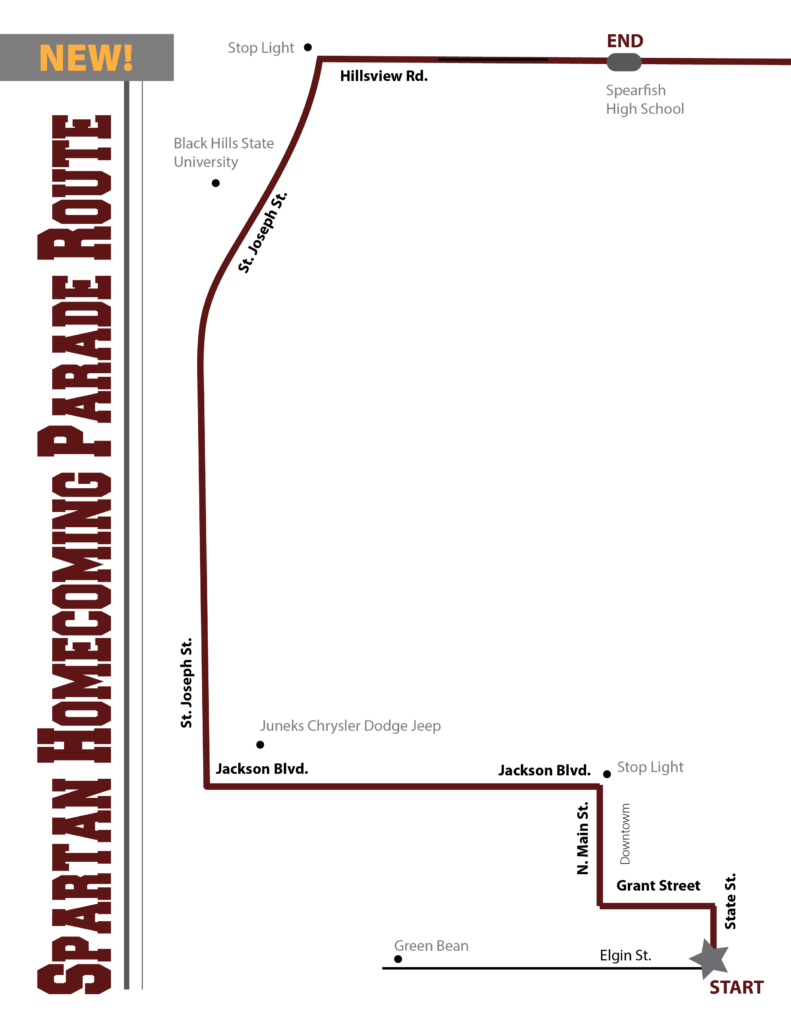 Click Here to download the map.
General Parade Info:
• The parade with begin at Spartan Park and end at Spearfish High School.
• The parade staging area will be on State Street on Elgin Street.
• Enter at designated entry point.
• Please be sure to check in with the parade organizers.
• Officials will be wearing visible bright colored shirts.
HELP US SHARE THIS EVENT! Download our Flyer Here.
Parade Rules:
• Any individuals who operate a truck, car, tractor, or any other type of vehicle must possess a valid driver's license. No one under the age of 18 is permitted to operate a vehicle.
• All participants are expected to abide by general behavior guidelines.
• All entries with live animals are responsible for immediately curbing/cleaning up after their animals.
• Throwing of candy and other objects must be thrown a distance away from the moving vehicle for safety purposes. DO NOT throw candy or parade items directly at parade goers. Please be mindful of where you are throwing.
• NO water spraying, water balloons, or any spraying of the audience of any kind.
• One ADULT MUST BE physically present on every float entry with people riding on the float. (If float has no riders, an adult is not required.)
• REMBER SHOW YOUR SPARTAN PRIDE. Be Respectful.
• Please pick up ALL TRASH before, during and after the parade.
• Once your entry has started along the parade route, no one may board your float.
• Entries with children under the age of 18 must have adult supervision.
• All entries are to keep out of the middle of the road during line up. This is why it is very important to list all vehicles so proper space may be allotted for line up.
• Keeping the road open is imperative in the event an emergency occurs. It is important that emergency vehicles have clear passage.
• Please be sure to fill out the entry/registration form to ensure all information is received. Registration information can be found at www. Spearfishboosterclub.com. A direct link found on this page will be used for registration.
• Your entry may not exit the parade prior to the end of the parade.
• Cover ALL open wheels for safety. No open wheel wells allowed.
• The parade organizers have the right to remove any float/vehicle at any time based on their assessment relating to safety concerns.
• You will receive a confirmation email prior to the parade with entry number attached.
• Reminder: The Spartan and SHS campus and activities are alcohol, tobacco and drug free environments.
Download the Parade Rules. CLICK HERE.
Online Parade Float Registration
Download the paper form HERE.
Homecoming Parade Float Entry 2023
Proudly supported by the Spearfish Spartan Athletic Booster Club and the Spearfish School District.
Get Ready for Homecoming! Here's what's happening!
Homecoming Week Themes:
THEME: Rope the Broncs!
Dress Up Days: TBA
Monday: Pajamas
Tuesday: USA (Patriotic Day)
Wednesday: BBQ Dads and Soccer Moms
Thursday: Class Color Day
Seniors: Pink / Juniors: Blue / Sophomores: Green / Freshmen: Brown / Staff: White & Black
Friday: Maroon and White Day
Don't Miss These Events:
Homecoming Coronation @ 7:00pm in the Auditorium

Immediately following, Burning of the "S" out by the mods at the High School

Early Release @ 1:00pm

Pep Rally @ High School @ 12:20pm

Homecoming Parade @ 2:00pm

Sept. 22nd (Friday) | Spartan Athletic Booster Club TAILGATE – Starts at 5:00 pm
*Wear your jerseys and get a free hamburger or hotdog!
September 22 (Friday) | GAME TIME – Football Game – 6:00 pm vs. Belle Fourche Broncs
*Game ball presentation by the Spartan Athletic Booster Club following the game.
8:30pm – 10:30pm Homecoming After Party @ Spearfish High School for Spearfish High School Students (must have I.D.'s to get in). *Anyone who does not attend SHS and plans to attend will need to fill out the permission form by Wed. Sept. 20th*
Games at Home to Catch:
Sept. 19 | Girls Tennis at HOME vs Pierre – 10 AM
Sept. 21 | Volleyball at HOME vs Custer – C 5PM / JV 6 PM/ V 7PM
Sept. 21 | Boys and Girls JV Soccer at HOME vs RC Central – 5:30 PM girls / 7PM boys
For More Information Contact:
Parade Coordinator Contacts:
Lacey Kirk: 605-641-9819
PO BOX 853, Spearfish, SD 57783
Booster Club Contacts:
Randy Parks (President)
See our contact page. Click Here.